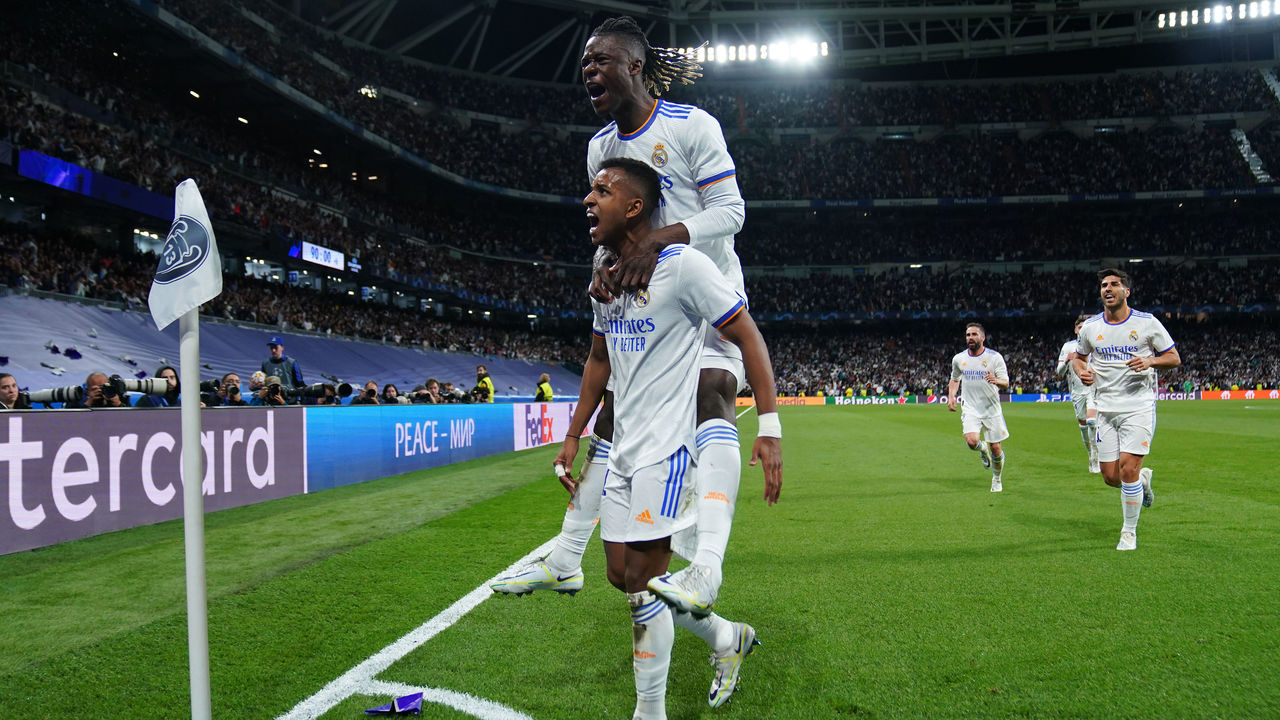 4 thoughts from Real Madrid's epic comeback against Manchester City
The Champions League served us another classic. Below, theScore examines the biggest talking points from Real Madrid's unlikely victory against Manchester City on Wednesday.
Ancelotti's subs make the difference
When Real Madrid need a spark, Carlo Ancelotti always looks to his bench. And more often than not, he finds the answer.
For all the talk of Ancelotti's unyielding loyalty to Madrid's most tried-and-true players, it's his willingness to thrust youngsters into the most critical situations that stands out. His substitutions turned the tide against Paris Saint-Germain and Chelsea, and they did the trick again on Wednesday. As he did in the round of 16 and quarterfinals, Ancelotti tapped the shoulders of midfielder Eduardo Camavinga and winger Rodrygo. They delivered, inspiring a late, scarcely believable, 3-1 comeback win over Manchester City.
Camavinga restored order in midfield when he replaced Toni Kroos with Madrid trailing PSG by two goals on aggregate. Los Blancos then scored three goals in 17 minutes to advance to the quarterfinals. The 19-year-old brought the same level of composure off the bench in the quarterfinal second leg against Chelsea, helping Madrid see off the Blues' comeback attempt.
On Wednesday, Camavinga stretched City's defense with wonderful balls over the top, offering more creativity than Casemiro and, crucially, setting up the play that led to Rodrygo's first goal.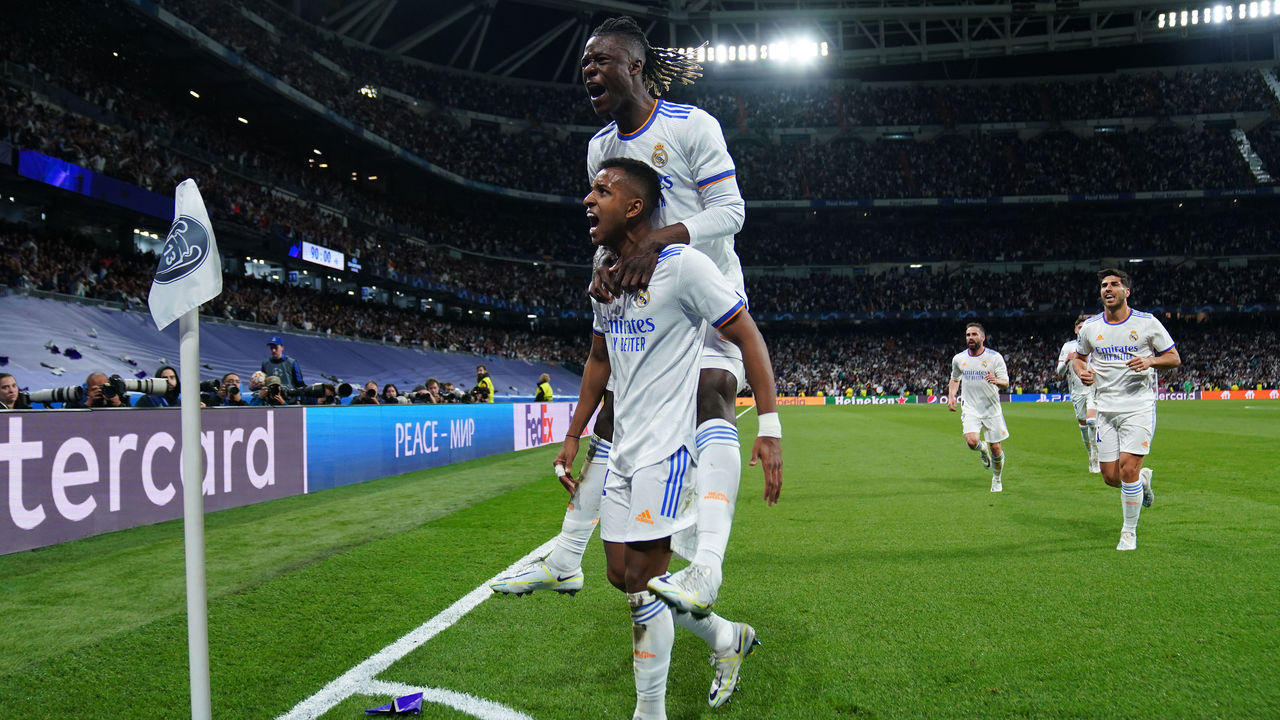 Rodrygo himself is 21 years old and in the middle of his third season with Madrid. He hasn't scored or played often, but when he does, it matters.
The Brazilian sent the match into extra time with the kind of header you'd expect from Karim Benzema: Packed with power and accuracy, it froze goalkeeper Ederson in place, leaving him moored to the ground. Rodrygo forced extra time in the quarterfinals as well, scoring two minutes after replacing Casemiro. Recently, in La Liga, he secured a 3-2 comeback win over Sevilla with a goal and an assist off the bench.
It's just what he does. Taking after many of Madrid's great players, Rodrygo has come alive in the business end of the season, scoring six goals in his last six appearances. He had just four in the 79 matches prior to that.
Ancelotti may not give his youngest players all the minutes they deserve – preferring experience from the start – but he values the youth in his squad, and when the going gets tough, there's nowhere else he'd rather look.
Casemiro to the rescue
"The collective is most important, to move together, to be compact," Ancelotti said ahead of Wednesday's extraordinary match, according to Dermot Corrigan of The Athletic. "We have worked on that, improving defensively, and I believe you will see that tomorrow."
Manchester City created chances – of course – but, for the most part, the Italian tactician was absolutely right. Casemiro was an enormous reason why Real Madrid looked more stout than they did at the Etihad Stadium.
The 30-year-old midfielder has an uncanny ability to avoid bookings for offenses that, committed by literally any other player, would be automatic yellow cards. The Brazilian was arguably lucky to still be on the pitch at halftime after scything down Kevin De Bruyne and then blatantly hauling Phil Foden down by the collar to halt a City attack later on. He was let off the hook by Daniele Orsato for the first challenge, and then, using the oldest trick in the book, expertly weaseled his way out of the second one by feigning injury after pulling the Englishman to the turf.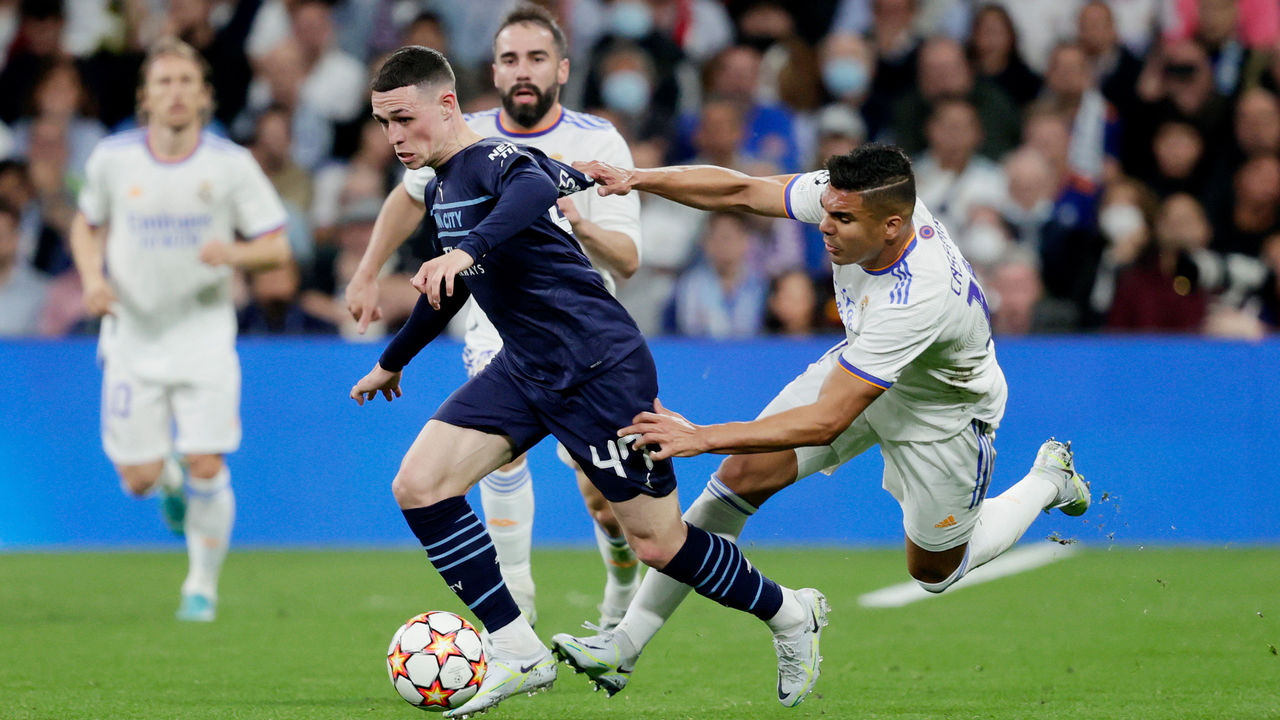 Some players simply have that nous. Casemiro, who, quite incredibly, wasn't booked before being replaced in the 75th minute, is at the top of the list.
He also happens to be a brilliant defensive midfielder. It's not all dark arts – far from it.
There was the usual physicality, which can often cross the line, but there was also the elite shielding of the defense, something that was painfully absent in the first leg with the veteran sidelined by injury. He snapped in when City threatened, intercepted potentially dangerous passes, and instilled calmness in tight spaces when he won the ball back, ensuring that Madrid didn't simply dump it long and immediately get pinned back again as they did in Manchester a week ago. There were even some cheeky nutmegs thrown in there for good measure.
All of his skills were on display early in the second half, when he won the ball on the edge of his own area, dribbled out of a congested zone with a quick body feint, then put his foot on the ball, scanned the field, and sprayed a pass out wide to launch an attack. His ability to combine all those skills, both diabolical and elegant, makes him one of the game's true unicorns and a key reason why Real Madrid have enjoyed so much success with him anchoring the vaunted midfield alongside Luka Modric and Kroos.
"If we are going to look (in the market) for a copy of Casemiro, we'll make a mistake," Ancelotti said of the Brazilian in January. "There are none in world football. He's unique."
Bernardo 2.0
Bernardo Silva twirled and jostled like a fairground bumper car at the Etihad Stadium in 2017; in one run, he willed the ball away from David Silva, used Leroy Sane's challenge to spring him higher up the pitch, and cheekily poked the ball through Yaya Toure's legs.
To further underline his credentials to Pep Guardiola, the fleet-footed winger feigned to shoot when he rolled the ball to Kylian Mbappe for AS Monaco's opening goal in the following month's second leg. The assist kickstarted Monaco's famous comeback win to reach the Champions League quarterfinals.
But the player who City signed two months later is vastly different from the one who repeatedly took the pressure off his teammates in the midweek defeat at the Santiago Bernabeu. Rather than a daring wide man – duping opponents with tricks and flicks – Silva has developed into one of Guardiola's more effective players when his side is under duress.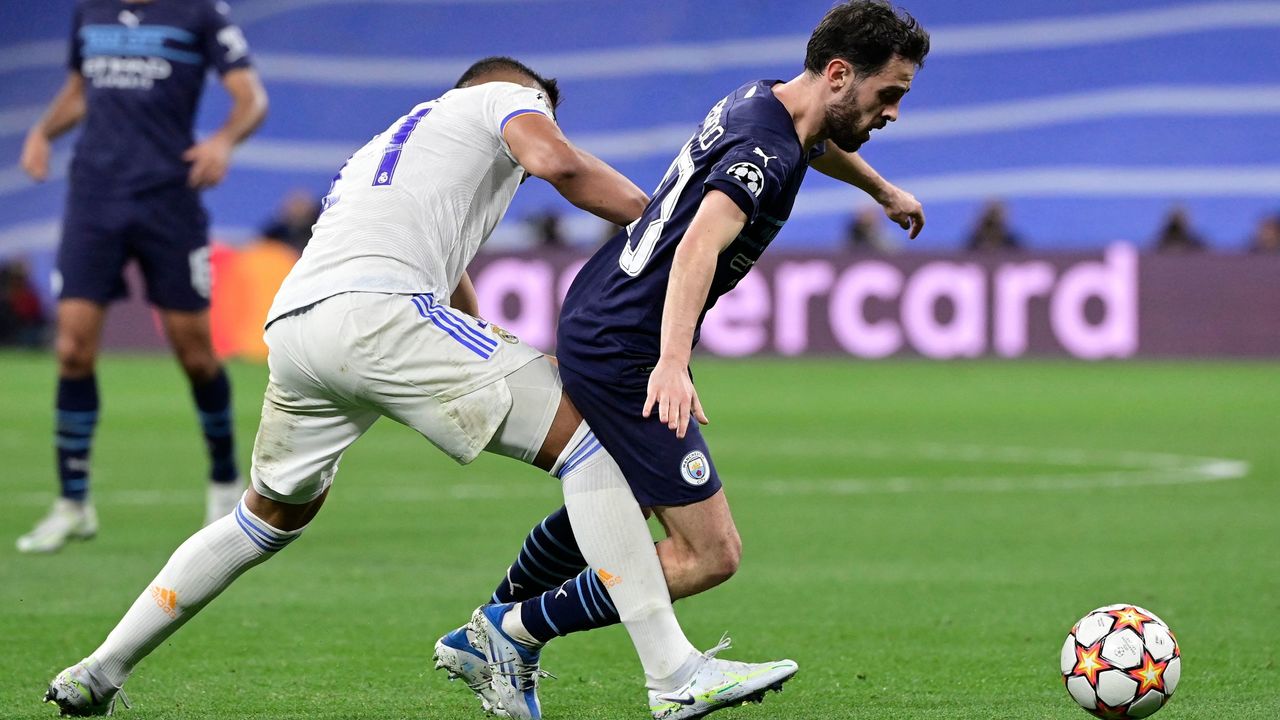 He was omnipresent for much of normal time, often collecting the ball from a deeper position than defensive midfielder Rodri. He intelligently lured white shirts before wriggling free. His natural technical brilliance – regularly utilized in his own half, unlike his time at Monaco – allowed his team to reorganize and, most importantly, retain possession.
In this area of the pitch, it's normally a risk for players to use the ball in that manner. But not for Silva.
It's no coincidence that Rodrygo's late double occurred after Ilkay Gundogan was called off the bench in the 72nd minute. Gundogan's inclusion pushed Silva further up the park. Silva teed up Mahrez's goal soon after that substitution – the strike that appeared to rubber-stamp City's place in the final – but, with the Portuguese in a more attacking role, City had crucially lost their pressure relief valve.
City's improvements a long time coming
Manchester City had regrets after the opening fixture. They'd given Real Madrid, the cloaked assassins of European football, life in the tie that they didn't deserve.
"We started really well and could have killed them off. In these games, we need to take more chances," Foden said after City's 4-3 win. "We are playing a side that have won the Champions League many times, and if we give the ball away, they are going to punish us."
This wasn't unchartered territory for Guardiola's regime. A first-leg lead was surrendered to Monaco in 2017, and there was another gut-wrenching loss to Tottenham Hotspur in 2019. The pain from the collapse to Liverpool (2018), tactical mishap against Lyon (2020), and more Pep overthinking in the final with Chelsea (2021) should've also added fuel to City's fire.
It seemed there were no more lessons City could take from a Champions League defeat, which might make this elimination the most painful of all.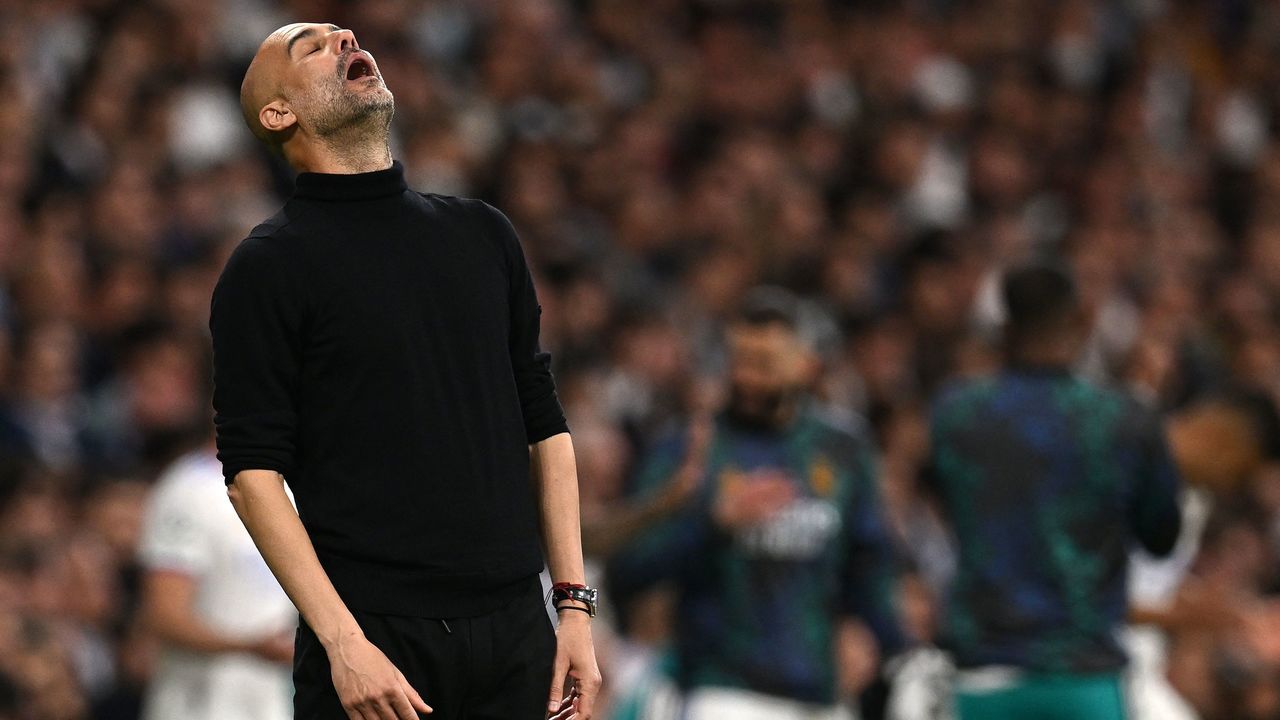 A place in the final was right there. Guardiola's substitutions will be scrutinized, but the most important switches worked. Jack Grealish almost scored twice, while Fernandinho added grit and aerial presence after they were introduced with City two goals ahead. It could be argued that City were just unfortunate, falling victim to the football gods' insistence on Real Madrid winning, whether they play well or not.
That's not to say that this latest devastating setback was unavoidable. While their Premier League title rivals, Liverpool, are immaculately balanced with at least two players of almost identical quality for most positions, City's transfer committee appears content on leaving Guardiola's squad hamstrung.
For too long, City have relied on out-of-position players to fill the left-back slot, such as No. 6 Fabian Delph, attacking midfielder Oleksandr Zinchenko, and right-back Joao Cancelo. The disgraced and oft-injured Benjamin Mendy is the last established left-back that City brought in, and that was five years ago. Re-signing Angelino in 2019 was little more than an experiment gone wrong.
And the most talked-about gap in Guardiola's roster – a No. 9 – wasn't filled before this season. The club wasn't prepared to pursue a different striker when the drawn-out Harry Kane chase spectacularly collapsed.
If City address the simple ways they can improve their squad this summer, it should strike fear in their European and domestic rivals. But right now, it comes as no consolation to their supporters. Those glaring needs should've been sorted out a long time ago.
(Visited 35 times, 1 visits today)
You might be interested in