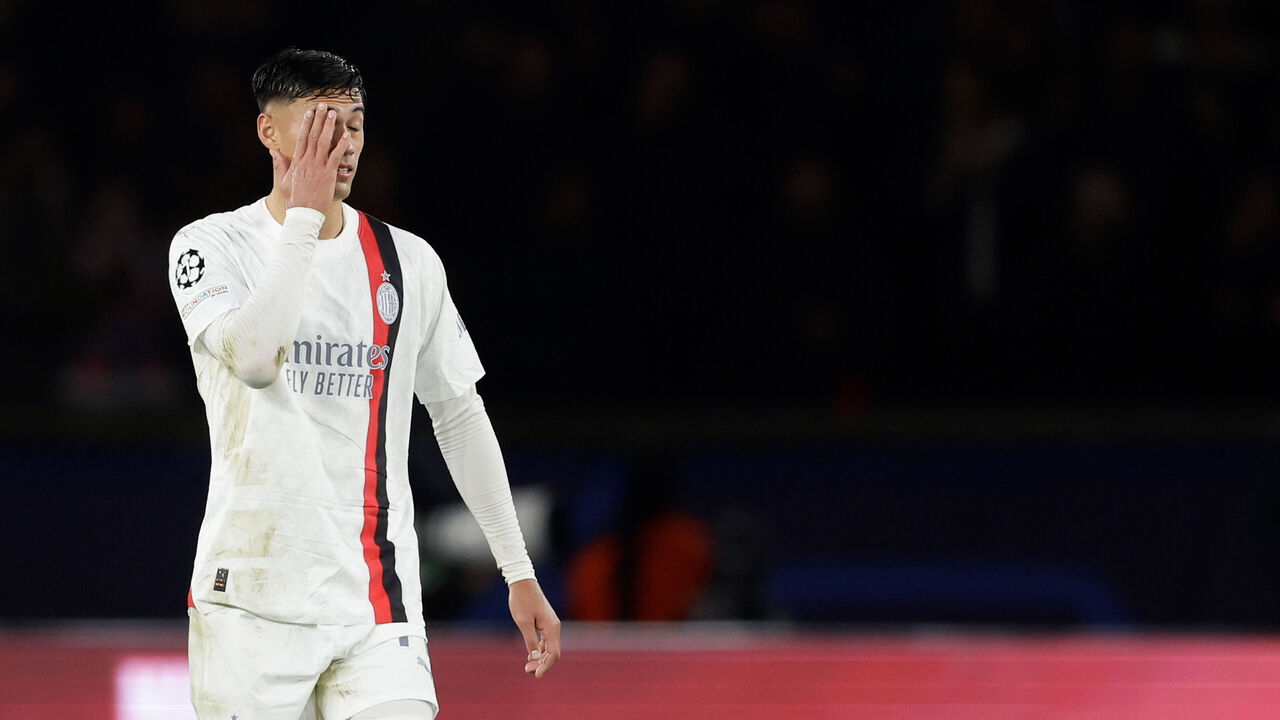 Key thoughts and analysis from Matchday 3 in the Champions League
The Champions League rumbled on this week. Below, we dissect the biggest talking points from Matchday 3 in Europe's premier club competition.
AC Milan going backward – and fast
AC Milan's last few seasons were about taking steps forward. Their project began in earnest when they reached the Champions League for the first time in eight years. It continued with their first Serie A title in 11 years and hit another level last season when they made the Champions League semifinals for the first time since the 2006-07 campaign.
Now they sit dead last in their Champions League group with two points and zero goals scored after losing 3-0 to Paris Saint-Germain on Wednesday. While the Rossoneri remain in second place in Serie A, they have struggled against teams in the top half of the table, losing 5-1 to Inter Milan and 1-0 to Juventus, and have scored just once in their last four matches in all competitions. They had two players sent off in their last three matches and collected 10 yellow cards in that span. This is far from the exciting ensemble that made fans dream again. This is a cheap knock-off.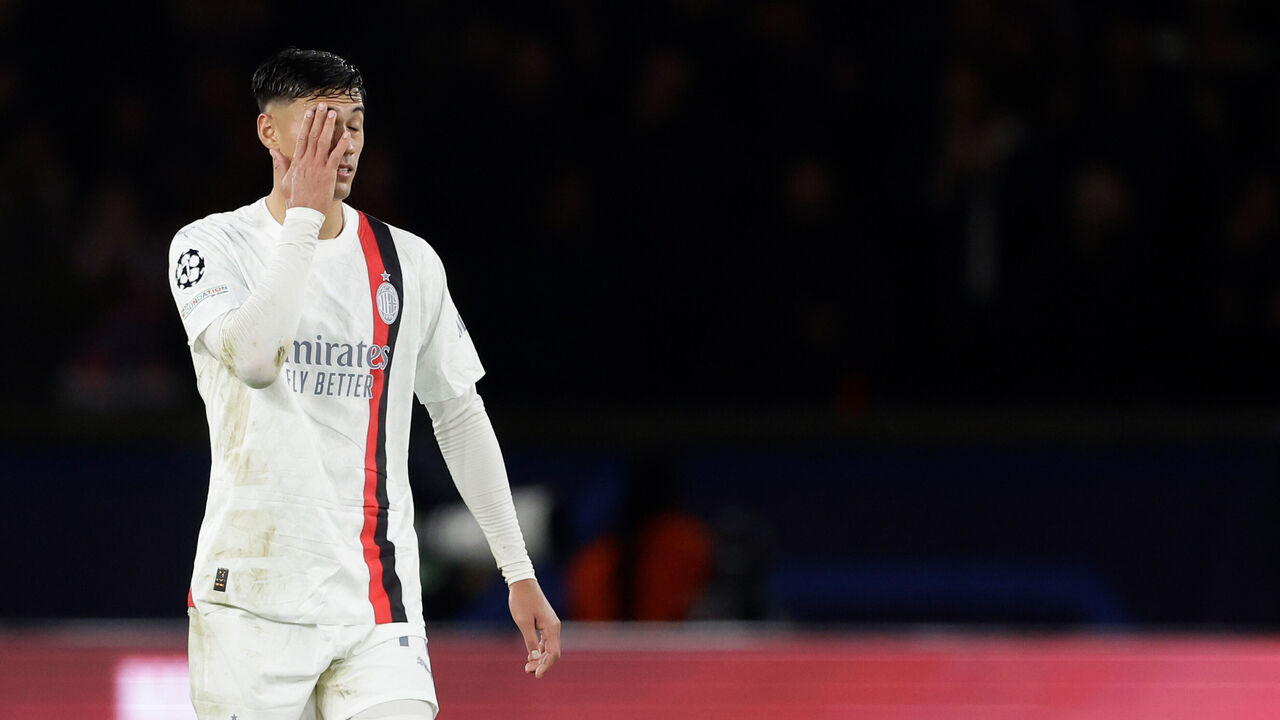 Part of that is down to injuries. Milan are missing Ruben Loftus-Cheek, Ismael Bennacer, Samuel Chukwueze, and Noah Okafor, robbing them of two midfield starters and a pair of high-impact substitutes. But that doesn't excuse the lack of character and organization in Stefano Pioli's side. It's unbelievable that a team that once played with such precision and attacking fervor could become so porous in midfield, so weak on the ball, and so meek in front of goal. They're no longer playing like a team, passing the ball with any particular rhythm, or winning duels or second balls. Milan's attack has been reduced to a run-and-gun offense, with Rafael Leao and Christian Pulisic the only ones creating anything of note. But because they have struggled for consistency, so too have Milan.
Fans have watched this physical and tactical deterioration for months. The only reason Milan qualified for the Champions League was because of Juventus' points deduction in 2022-23; they would've otherwise finished in fifth place. Pioli struggled all of last season to find the right balance with his players, and he somehow managed to keep his job despite the massive shake-up at board and management level.
It's a great shame because things are finally looking up off the pitch. Three years removed from reporting nearly €200 million in losses, the club has turned a profit. But Milan look less and less like a contender on any front. – Anthony Lopopolo
Magpies brought back down to earth
No goals from their opening two group-stage games proved Borussia Dortmund aren't the swashbuckling knockout-round regulars we've seen in previous Champions League campaigns. This is a team trying to compensate for Jude Bellingham's departure and a poor goal return from its wealth of attacking options. To further complicate matters, Julian Brandt – Dortmund's most dangerous player with four goals and five assists in all competitions this term – was a late scratch from Wednesday's trip to Newcastle United due to a calf injury.
So, don't be fooled by Newcastle's shortage of European pedigree. Felix Nmecha's excellent first-half finish securing a 1-0 away win for Dortmund is a huge shock that blows open this season's most intriguing quartet.
Group F after three matches
| # | Team | GD | Points |
| --- | --- | --- | --- |
| 1 | PSG | +2 | 6 |
| 2 | Dortmund | -1 | 4 |
| 3 | Newcastle | +2 | 4 |
| 4 | AC Milan | -3 | 2 |
Newcastle crash-landed from their historic victory over Paris Saint-Germain. Callum Wilson could've twice leveled when his close-range shot was saved by Gregor Kobel and a late header hit the underside of the crossbar, and Anthony Gordon's deflected effort deep into stoppage time also hit the woodwork. But it took too long for the Magpies to click and prove they were the better team.
And when the synergy isn't there, Newcastle don't have an individual who can provide a key moment – a touch, a trick, a goal from nowhere. The top teams in this competition have a player like that. Newcastle are perhaps too early in the Saudi-funded project to have one; they have a group of grafters, but a player who can carry a team on his own is harder to find.
Miguel Almiron is an example of Newcastle's lack of stardust. He doesn't have the outrageously high level of technical ability you'd expect from a mercurial attacking midfielder, but he has more tactical sense and a higher work rate than many players of his ilk. That unique combination probably makes him popular among his teammates and Newcastle's traditionally blue-collared support, but, in a decisive moment, you probably don't want him there. His touch can be too heavy and his final ball can be wayward. In the last action of the match, Almiron wastefully skied a shot over the bar when the box was packed with black-and-white shirts.
The elite in this competition get the job done.
It may seem premature to say, but the home defeat could be extremely costly for Newcastle. Two away matches at Dortmund and PSG await Eddie Howe's men, potentially setting up a high-stakes meeting with Milan on Tyneside to conclude the group on Dec. 13. – Daniel Rouse
Savvy Bayern pass test
The look of relief after the full-time whistle said it all. There were hugs and handshakes all around in celebration of Bayern Munich's escape from Turkey with three points after one of their toughest tests so far this season.
Galatasaray, who came into the contest on a high after beating Manchester United at Old Trafford last time out, looked like they could end Bayern's 15-game winning streak in the Champions League group stage. That incredible run appeared to be in jeopardy when Mauro Icardi equalized with a first-half penalty that triggered a loud burst of joy from the raucous Gala fans. The home side, using an aggressive approach, caused problems for Bayern and should have taken a lead into halftime. They came out of the break with a similar desire to play on the front foot.
But that opened the door for Bayern. The savvy Bavarians eventually took advantage of the tiring Turkish side, with Harry Kane scoring what proved to be the winning goal.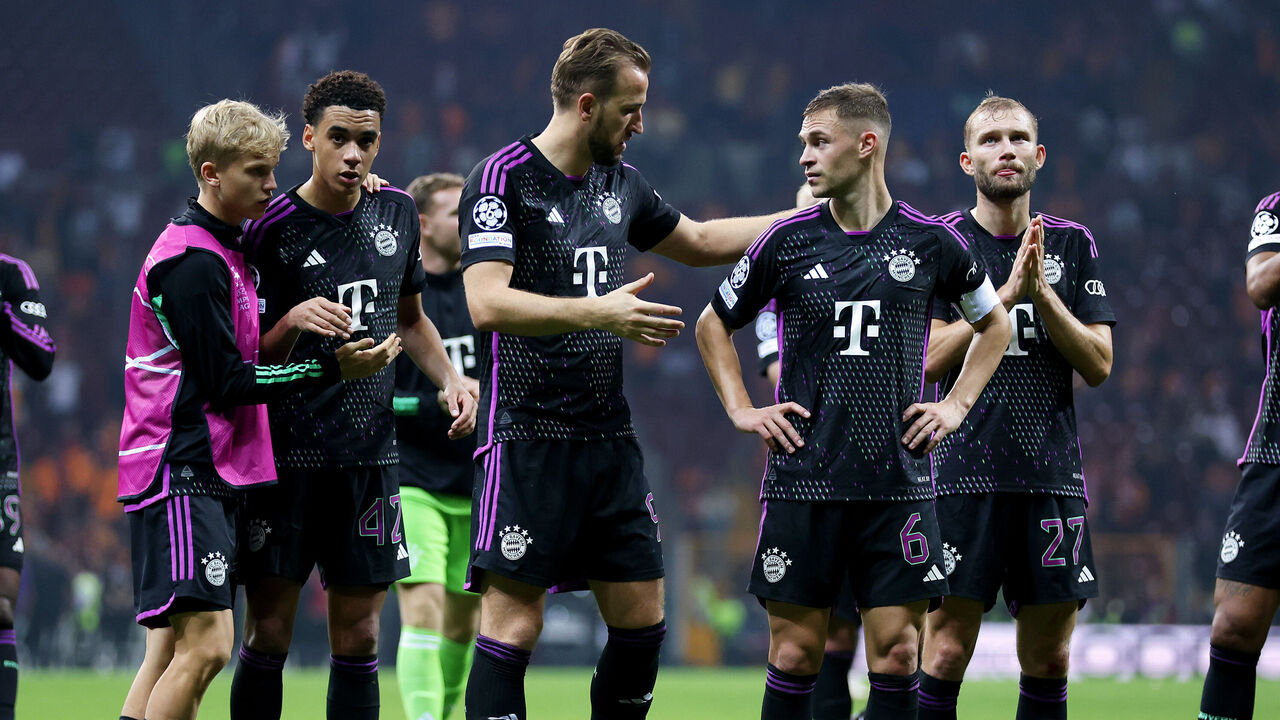 Kane stole the headlines with his 11th goal (and sixth assist) in all competitions since his summer arrival, but Leroy Sane did his part to help offset Bayern's injury woes, continuing his bounce-back season with another great performance. After a difficult 2022-23 campaign – remembered more for his squabble with former teammate Sadio Mane than his exploits on the pitch – the spotlight is, thankfully, back on his talents. Sane didn't add to his goal tally Tuesday, but he was a menace who proved almost impossible to contain.
Jamal Musiala also continued to shine, showcasing just how good the German club still is during an injury crisis that might've proved devastating to most other teams. Now, it's just a matter of time before Bayern qualify for the knockout rounds once again.
If they're this good without a host of first-team regulars, the best is yet to come for the unbeaten Group A leaders. – Gordon Brunt
Can Bellingham keep up ridiculous form?
Advanced statistics tell us Bellingham has scored more goals than any player should have this season. But they don't tell the whole story. The reason Bellingham has 11 goals in his first 12 games for Real Madrid is much more nuanced than any expected-goal ratio.
Take the winner he bagged Tuesday against Braga: Bellingham joined the attack late, benefitted from the space that Braga's back-pedaling defenders left behind, and waited patiently for Vinicius Junior to find him at the edge of the area. His finish was superb. His spatial awareness was even better.
Bellingham has made a habit of scoring off of these late runs into the penalty area. He does what Lionel Messi has done so well, drifting out of sight and mind before coming sharply into focus. He doesn't have to burst a lung to get into scoring position. He times it perfectly.
The 20-year-old is also an exceptional finisher. He doesn't have to bludgeon the ball with venom. Just as he understands the space around him, Bellingham knows exactly where to place the ball.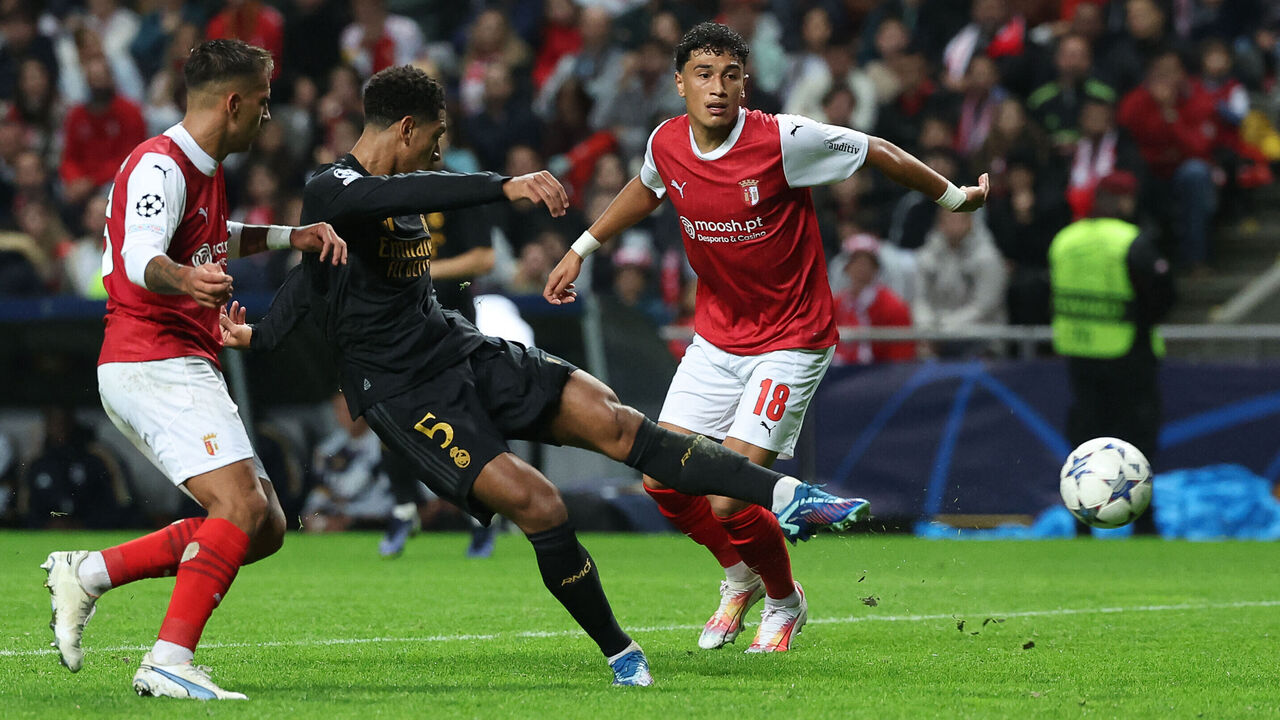 His finish Tuesday looked effortless precisely because it didn't need that much juice. He picked out the bottom corner with the same finesse he used when he lofted the ball over Athletic Bilbao 'keeper Unai Simon in August. And Bellingham was as patient as he was when he baited Osasuna's goalkeeper before squeezing the ball through his legs earlier this month.
Madrid manager Carlo Ancelotti noticed these qualities in Bellingham early on and allowed him the freedom to roam. That's a rarity in football these days. There are so few high-scoring midfielders in today's game because most of them must follow certain tactical patterns. The shackles are off here.
But it would be equally foolish to say Bellingham is a throwback No. 10. He can win balls and track back and do all the things the playmakers of the 90s and 2000s hated doing. His four tackles and two interceptions in the 3-2 win over Napoli led his team, as did his two interceptions against Braga on Tuesday.
But the dirty work never comes at the cost of scoring. – Lopopolo
Quick free-kicks
Zaire-Emery mature beyond his years
Warren Zaire-Emery exudes poise on the pitch. The 17-year-old sparkled against AC Milan on Wednesday, logging two assists and looking like the most assured midfielder on the pitch despite his age. "He does everything well, defensively and in attack. He is aggressive, good technically, has good vision, can score and set up goals," Luis Enrique said after the match in which the PSG academy product led his side with four key passes. Zaire-Emery has a feel for the game that can't be taught, and that's part of what makes his potential so frightening. He's only going to get better as he matures physically, but he already boasts an uncanny ability to time passes correctly and find the right spaces to exploit in possession. After letting so many of their prodigious homegrown youngsters depart over the years in favor of high-priced names, let's hope PSG actually hang on to this blossoming superstar and continue giving him opportunities to shine and grow. – Gianluca Nesci
Barcelona have a future after all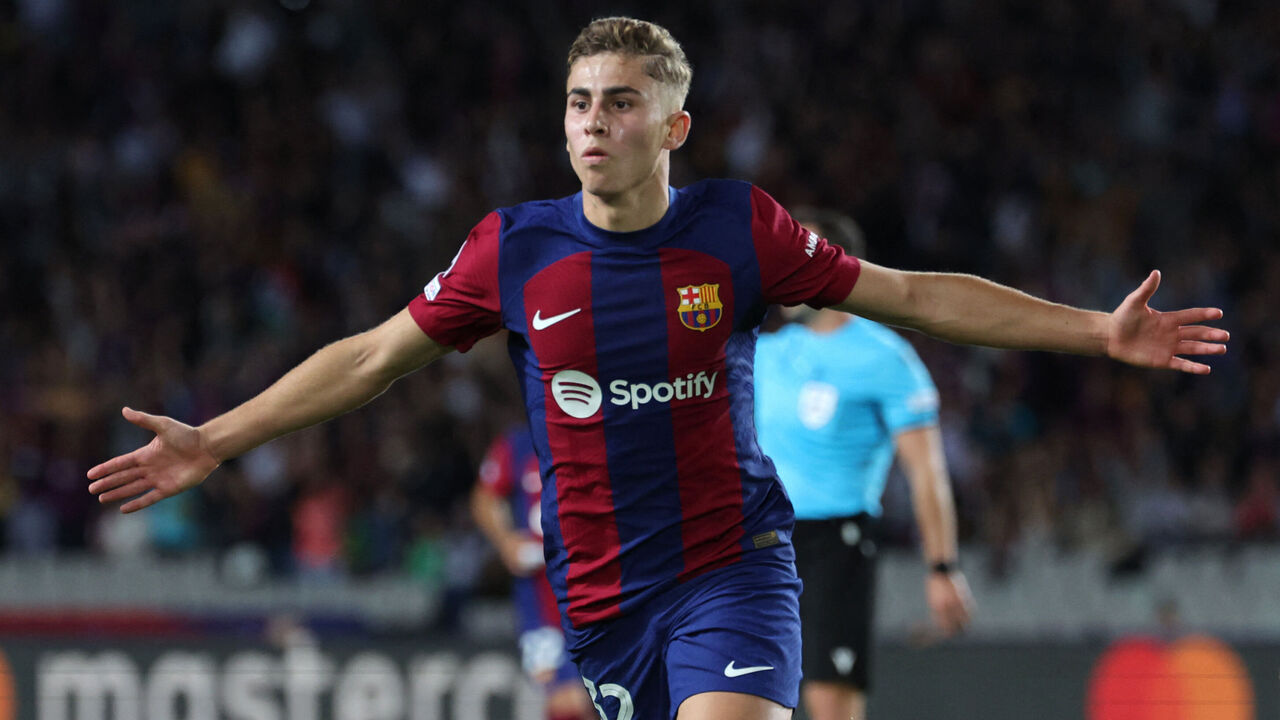 Despite mortgaging a good chunk of down-the-line revenue for cash-flow purposes, Barcelona still have quite the future ahead of them.
Every week, one of Barcelona's La Masia graduates steals the spotlight. Earlier this month, it was Lamine Yamal, who became La Liga's youngest scorer at 16 years old. Last weekend, it was Marc Guiu, who scored the winning goal mere seconds into his La Liga debut. And on Wednesday, it was 17-year-old Fermin Lopez, who struck the crossbar and winner in Barcelona's 2-1 win over Shakhtar Donetsk. The 20-year-old made headlines during the club's preseason tour of the U.S., scoring and assisting in a memorable victory over Real Madrid at a sold-out AT&T Stadium, and he once again showed his class against Shakhtar.
Credit must go to Xavi Hernandez, an academy graduate himself, for giving these youngsters a chance to shine and being one of the few people at the club to prioritize the future. – Lopopolo
Dream UCL debut for red-hot Gimenez
There's hardly anyone in better form right now than Santiago Gimenez. The Mexican international has Group E leaders Feyenoord in an advantageous position to progress to the Champions League knockouts after a sparkling performance in Wednesday's 3-1 win against Lazio.
Playing in his first-ever Champions League game after missing the Dutch team's first two matches through suspension, the 22-year-old didn't let the occasion get to him, punishing Lazio's defense with two goals to add to his impressive haul this season. He nearly had a debut hat-trick, but his strike in the first half was overturned by VAR. Gimenez is the top scorer in Europe's top seven leagues, and he now has 15 goals in 11 matches across all competitions. If he keeps this pace up, don't be surprised if Feyenoord pull off an upset or two in the knockout rounds. – Brunt
Eriksen's contribution key on night of redemption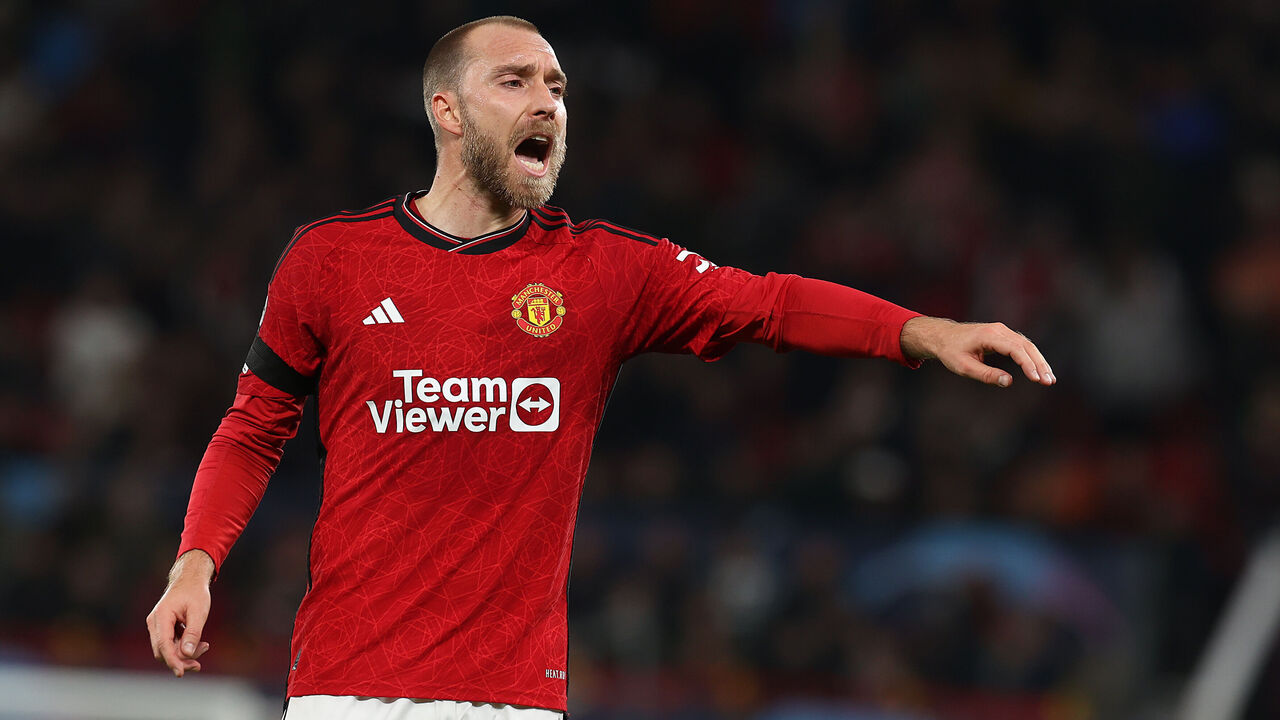 The referee blew for the interval at Old Trafford with around 15 seconds of the 45 minutes remaining. And for that, we should be grateful. Manchester United lacked courage, chemistry, and anything close to entertainment value in the opening period against FC Copenhagen. It was an ugly spectacle. Something – anything – had to change.
Christian Eriksen replaced the unimpressive Sofyan Amrabat and instantly brought more imagination and belief to Erik ten Hag's ranks. Harry Maguire's match-winning header, three days after his standout performance against Sheffield United, and Andre Onana's penalty save in the final second neatly provided a redemption tale for both players, but that shouldn't hide the fact that Eriksen was the true architect of a crucial 1-0 victory that belatedly ignites the Red Devils' European campaign. – Rouse
Copenhagen can't catch a break
Jordan Larsson never looked like scoring. The son of Henrik, the Swedish icon who had a brief loan spell at Manchester United, had the ball placed on the penalty spot, but the protests and encroaching from the home side delayed his attempt. He picked up the ball again and kissed it, and all the while appeared wary of looking up at Onana's goal. Once he took the penalty in the 97th minute, it was too close to the middle of the goal and at a convenient height for Onana to paw away. Diogo Goncalves also hit the post for the visitors in the fifth minute.
Copenhagen have one point from three Group A matches, but they could easily have seven or nine. The Danes were leading 2-0 at Galatasaray in their opening match and were under little pressure until Elias Jelert was sent off for a second yellow card. The Turkish giants salvaged a draw after goals in the 86th and 88th minutes. In Copenhagen's second outing, they sat deep and frustrated Bayern Munich while threatening their illustrious opponents on the counter. Mathys Tel struck in the 83rd minute to glean a 2-1 win for Bayern. And now, they'll return from a trip to Manchester United with nothing to show from a battling, disciplined performance. – Rouse
Jesus brings the chaos for Arsenal
"You don't know what I'm going to do. I create chaos. I started at Palmeiras at 15, 16. Before that I only played in the streets. I bring the streets to the pitch. That's my quality." That's how Gabriel Jesus responded last month when asked to describe his game. That ability to create mayhem and leave the opposition in disarray was on display Tuesday, as the Brazilian turned three Sevilla defenders inside out to craft an assist for Arsenal's opening goal, then scored a gorgeous one of his own, seemingly out of nowhere, to lead the Gunners to a 2-1 win. His unpredictability is what makes him so special. Jesus can break games open at a moment's notice. Unfortunately, that unpredictability also extends to his availability; Jesus, who's struggled with injuries during his Arsenal tenure, saw his memorable outing marred by a hamstring issue in the final minutes of the match. Arsenal have depth up front, but none of their backup options can replicate Jesus' impact. – Nesci
Raspadori's time to shine
With star striker Victor Osimhen expected to be sidelined for up to one month with an injury sustained during the recent international break, Giacomo Raspadori has an opportunity to step up in a time of need for Napoli. The diminutive Italian has primarily come off the bench since joining the club last year, but in two games with Osimhen sidelined, Raspadori has a goal and an assist, scoring the lone tally of the match against Union Berlin on Tuesday after a strong performance versus Hellas Verona in the league this past weekend. His understanding and connection with Khvicha Kvaratskhelia, while not nearly on the same level as that of Osimhen, continues to grow. Few players, if any, can replace the Nigerian's scoring output, but Raspadori is going to have a prolonged chance to prove he deserves more minutes even after his prolific teammate returns. – Nesci
Stat of the week
Two more goals for Erling Haaland in Manchester City's win against Young Boys. Not bad for a striker who's supposedly out of form.
Tweet of the week
Who would've thought Maguire and Onana would be lapping up the applause after Manchester United clinched their first group-stage win of the season?
You might be interested in